Are you looking to replace your OE (original equipment) lug nuts with something more durable? Or maybe you're wondering which lug nuts are the best choice for your new aftermarket wheels? Either way, we've got the full rundown on lug nuts and lug bolts, including lug nut size and lug nut type.
WHAT ARE TIRE LUG NUTS
While there are many different types of accessories for your vehicle out there, few perform as important a role as lug nuts. So, what are lug nuts, or lug bolts?
In short, lug nuts are the hardware used to secure your wheel and tire assembly to your vehicle. Having the correct lug nut ensures that your wheel is safely and securely installed. They may be small, but they perform a really big job.
While lug nuts vary in size and thread pitch, one of the most important differences in lug nut type is in the contact point where the lug nut meets the wheel, AKA the lug nut seat.
It's crucial that the lug nut seat and the wheel lug seat match. If they don't, it's possible that the lug nuts/lug bolts won't safely secure your tire and wheel assembly to your vehicle.
So, let's break down the different types of lug nuts!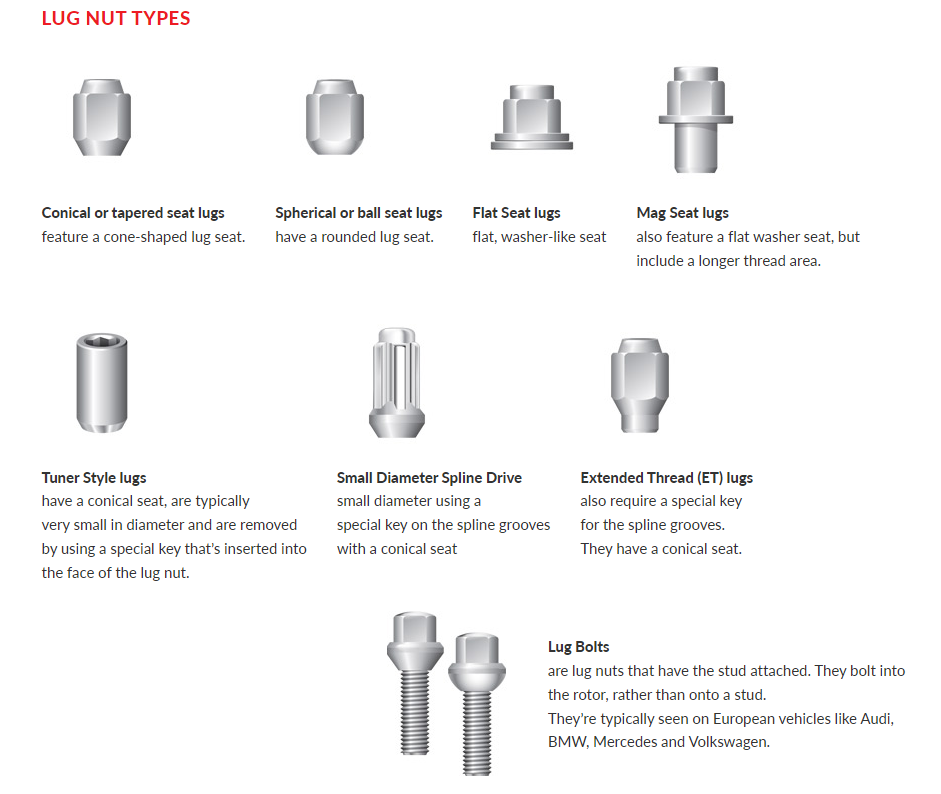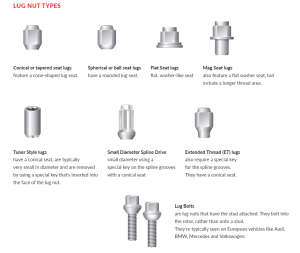 LUG NUT SIZES
To safely install your wheels, it's important that the lug nut size matches your vehicle's requirements. If your lug nuts or lug bolts don't match your vehicle's thread pitch, they won't work on your ride.
Lug nut sizes are given in two numbers. The first number is the diameter of the stud. The second number is the thread pitch. On metric studs, the thread pitch is the distance in milimeters between each thread. On standard lug nuts, the thread pitch is the number of threads per inch.
For example, a 12mmx1.25 lug nut has a 12mm diameter, and a thread pitch of 1.25mm.
Here are the other most common lug nut sizes:
10mm X 1.25
12mm X 1.25
12mm X 1.50
12mm X 1.75
14mm X 1.25
14mm X 1.5
14mm X 2.0
7/16″ X 20
1/2″ X 20
9/16″ X 18
Note: Most lug nuts are right-hand threaded, meaning they follow the "righty tighty, lefty loosey" rule. Left-hand threaded lug nuts, or lug nuts that tighten by rotating to the left, are not very common. They're typically marked with an "L" or "LHT" on the side of the lug nut.
WHAT LUG NUTS DO I NEED FOR AFTERMARKET WHEELS?
If you want to give your ride a style upgrade that also packs a performance punch, there's nothing better than a new set of aftermarket wheels.
But when replacing your original equipment (OE) wheels, it's important to make sure you have lug nuts that fit properly. Most OE lug nuts are not designed to fit aftermarket wheels. That's why we recommend purchasing a wheel installation kit to ensure your new wheels come with lug nuts that fit!
Having trouble deciding on which aftermarket wheels are the best pick for you? Check out our wheel visualizer to see how your favorite rims look on your ride! And if it's time for new rubber, just let Treadwell guide you to the right set of tires for your driving needs. After all, a custom tire and wheel package is the best way to ensure a seamless upgrade to your ride!
Plus, we have the lowest prices on our massive inventory of wheels and tires, so you can upgrade and save at the same time!